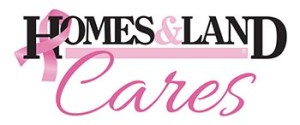 Homes & Land makes 'pink' donation to American Cancer Society
TALLAHASSEE, Fla. — With millions of pink ribbons printed and thousands of dollars raised, the "Homes & Land Cares" campaign in support of the national fight against breast cancer wrapped up Nov. 14 with a final $10,000 corporate donation to the American Cancer Society.
On behalf of the company and its franchisees throughout the U.S., Homes & Land President Allen Harrod presented a super-size pink check to representatives from the American Cancer Society. The ceremony was held at company headquarters in Tallahassee. Rachel Pienta, Senior Representative of the Society's Florida Division, accepted the donation along with board members Ann Hatcher and Brenda Hawkins.
The $10,000 corporate contribution was only part of the organization's efforts to support the cause. "Homes & Land Cares" put printed pink ribbons on the covers and inside pages of more than 1 million Homes & Land magazines during National Breast Cancer Awareness Month in October. This show of support was made possible by local publishers nationwide, who teamed up with local advertisers to raise awareness and money.
The Society's Pienta acknowledged the wider effort as she thanked the company for the ceremonial check and its real counterpart. "For you to give us pages for our cause is a tremendous, tremendous benefit," she said. "A print product like Homes & Land is a way for us to get the word out."
Homes & Land President Allen Harrod poses with, from left, local American Cancer Society board member Brenda Hawkins, Florida Division Senior Representative Rachel Pienta and board member Ann Hatcher.
"We thank you for the opportunity," said company President Harrod. "One of the things you don't see here today is our 110-some publishers around the country." Copies of a few of the many magazines that participated were on display, their covers sporting pink ribbons and sometimes awash in the color.
While the corporate contribution went to the American Cancer Society, money raised by local Homes & Land publishers and advertisers went to a variety of organizations involved in raising awareness of breast cancer, helping patients with the disease, and supporting cancer detection and research.
Eighty-five Homes & Land magazines actively participated in the campaign, and several publishers reported raising more than $1,000 in their local communities. Final numbers have not been tallied, but the total amount donated by franchisees and the Home Office is expected to be near $25,000.
Homes & Land is one of the most trusted brands in real estate and a leading marketer of properties for sale in print and online at HomesAndLand.com. Headquartered in Tallahassee, Fla., the company supports a franchise network of more than 230 Homes & Land-affiliated magazines in communities throughout the United States and Canada. Homes & Land distributes more than 27 million magazines a year.