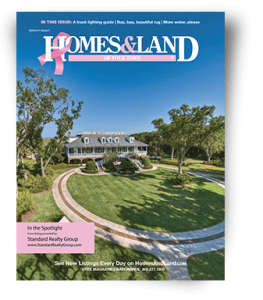 One of the many benefits of using Homes & Land in your marketing is we can help you secure new listings by giving you something unique to talk about during your listing presentation other than the 'I'll put your home on 5,001 websites' that every other agent is going to talk about. As you know, it's pretty easy and cheap to put listings online these days. That's why all your competitors are on those same websites right next to you.
Don't you want to be different and give your sellers something unique? Yes, print still works even in 2014! How? You've probably discovered by now that it's pretty hard and can be very expensive to brand yourself online. The reason is because you're competing against every agent in your market… online. Everyone is online so how do you stand out? It's not easy. You can buy PPC, banner ads, featured properties, featured agent, zip codes, retargeting, facebook ads, and on and on. There's so many options it's overwhelming.
Homes & Land makes it pretty simple for you and yes, print does work. One of the nice advantages of using Homes & Land is that you're not competing against every agent in your market. You may only be competing with 50-100 agents in your local Homes & Land magazine vs the thousands online in your area. Guess who's picking up Homes & Land around your office and listings? Buyers and sellers and those who have an interest in real estate. It's much easier to brand yourself in print in your local market because you're not going to be lost in the sea of websites and other agents in your area.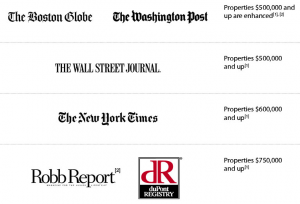 Of course, you're also going to have a nice website presence with Homes & Land too. We syndicate out to the top websites and even have some very nice luxury partners for those who specialize in high-end listings. Our luxury syndication partners include The Wall St Journal, NY Times, The Boston Globe, The Washington Post, Robb Report, and duPont Registry.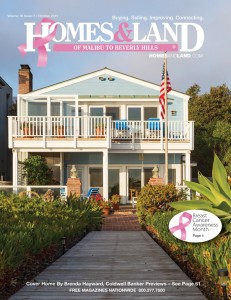 How do we know that print still works these days? There's many examples but today I'd like to take you to the West Coast to a little town you've probably heard of called Malibu, California. Yes, the home to movie stars and super wealthy. Homes & Land of Malibu to Beverly Hills is in its 35th year of production and features amazing and breathtaking homes for sale and of course, the top agents in the area. It's a real conversation piece and would make an excellent part of your listing presentation! If Homes & Land works for the stars I dare say it can work for you and your listings as well!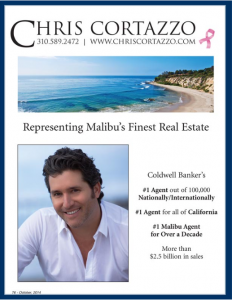 One of the 'stars' of Homes & Land in Malibu is Chris Cortazzo. If you're a Coldwell Banker agent you probably recognize his name. Mr Cortazzo advertises consistently in Homes & Land and has for many years now. For those not familiar with Cortazzo, he's the #1 agent in the World with Coldwell Banker, the #1 agent in California, and the #1 agent in Malibu for the past decade. He's had more than $2.5 billion in sales! Yes, that's billion. You'll definitely want to see what Mr Cortazzo is doing with his print ads in Homes & Land. His ads are located on pages 76-93, 108, and 143.
There's many 'stars' throughout the Homes & Land network of magazines across the United States and Canada and you might just very well be the next one! Take another look at Homes & Land and contact your local publisher today to find out what we can do for you to make you and that new listing of yours shine.
Would you like a free copy and/or digital subscription to Homes & Land of Malibu to Beverly Hills? Now, go start that conversation about Homes & Land on your next listing appointment!